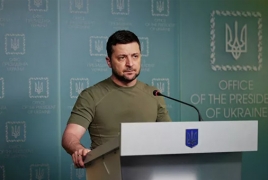 March 19, 2022 - 11:04 AMT
PanARMENIAN.Net - Ukrainian President Volodymyr Zelensky urged the Russian government to immediately participate in "meaningful" negotiations in a speech early Saturday, March 19 morning, warning peace talks are "the only chance for Russia to reduce the damage from its own mistakes", Forbes reports.
Zelensky accused Russia of blocking humanitarian aid deliveries to besieged Ukrainian cities, a move he called a "war crime" and cast as a deliberate attempt to force Ukraine to capitulate. He also said the Russian military's slow progress on the ground is causing it to adopt "cruel and erroneous tactics to exhaust us." Zelensky argued this strategy will likely cause Russia to face further economic sanctions and international isolation.
"It's time to meet. Time to talk. It is time to restore territorial integrity and justice for Ukraine," Zelensky said, according to an English-language transcript released by his office. "Otherwise, Russia's losses will be so huge that several generations will not be enough to rebound."
Ukrainian and Russian negotiators have met repeatedly in recent weeks, but it's not clear whether a ceasefire deal is realistic. The Kremlin has reportedly discussed neutrality for Ukraine along the same lines as Sweden or Austria, but Ukrainian officials rebuffed that idea and said Ukraine needs strong security guarantees, though Zelensky has acknowledged in recent days that Ukraine is unlikely to join the NATO alliance. Peace negotiations will also likely need to address the status of the Crimean Peninsula (which Russia annexed from Ukraine in 2014) and the Donetsk and Luhansk regions (which are partly controlled by pro-Russia separatists).