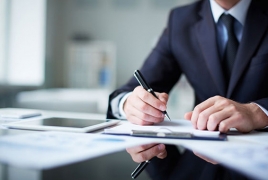 March 24, 2022 - 12:53 AMT
PanARMENIAN.Net - 938 Russian citizens have registered in Armenia as private entrepreneurs between February 24 and March 22, while another 268 limited liability companies were registered in the same period which consist of both legal or natural persons, the Ministry of Justice Head of the State Registry Agency for Legal Persons Tatev Mkrtchyan said on Wednesday, March 23 according to Armenpress.
Mkrtchyan said that most of said Russians are engaged in the IT sector.
Some of the Russian citizens required legal consultation upon registration because they were unaware of technicalities and the required paperwork. However, lawyer Lilit Karapetyan says the process is very easy.
"Anyone who wants to relocate their business to Armenia should simply take their passport and come to Armenia, translate the passport in a notary office, go to the registry," she said, adding that the registration will only take 30 minutes.