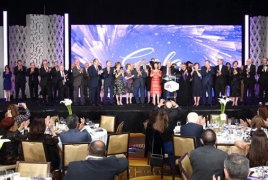 April 1, 2022 - 10:39 AMT
PanARMENIAN.Net - The Armenian American Museum and Cultural Center of California announced that the landmark center has surpassed the historic $31 million fundraising milestone at the sold out Legacy Gala on March 27. More than 1,100 donors, supporters, public officials, and guests were in attendance at the signature event of the year at the JW Marriott Los Angeles L.A. LIVE, said the Museum in a statement.
The Legacy Gala program kicked off with welcoming remarks by Executive Director Shant Sahakian who served as the Master of Ceremonies for the event.
"We have come together this evening on a historic occasion to celebrate a world class institution that was once an idea and is now under construction and becoming a reality in the heart of the Armenian Diaspora and Southern California," stated Executive Director Shant Sahakian.
The National Anthems were performed by the renowned Allen G. Orchestra.
Gala Co-Chair Aleen Baran Oruncakciel remarked on the significance of the cultural and educational center for the next generation and recognized the sponsors who contributed to the success of the event.
"The Armenian American Museum will be a guarantor for the study, appreciation, and preservation of Armenian culture and heritage for future generations," stated Oruncakciel.
U.S. Congressman Adam Schiff remarked on his experience witnessing the incredible progress at the construction site during a recent visit. He announced to the capacity crowd that his efforts to secure $950,000 in support of the museum in the FY2022 federal government funding legislation was successful and signed by President Joe Biden.
Senator Anthony J. Portantino remarked on his excitement for the opportunity to educate the public and preserve Armenian culture and history for generations of Californians through the Armenian American Museum. He celebrated the State of California's historic $9.8 million investment in support of the landmark center including his most recent successful effort to secure an additional $1.8 million in the 2022-2023 state budget.
The Armenian American Museum is a world class educational and cultural institution that is currently under construction in the museum campus at Glendale Central Park. The museum will offer a wide range of public programming through the Permanent Exhibition, Temporary Exhibitions, Auditorium, Learning Center, Demonstration Kitchen, Archives Center, and more. The museum celebrated its historic groundbreaking and commenced construction on the project in Summer 2021.