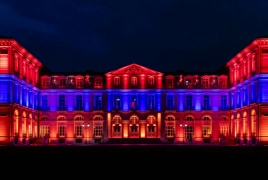 April 22, 2022 - 16:58 AMT
PanARMENIAN.Net - The Palais du Pharo – a palace built in Marseille in 1858 – was lit in the colors of the Armenian flag on Thursday, April 21 to mark the approaching anniversary of the Genocide, Mayor of Marseille Benoît Payan said on Twitter.
"Tonight Marseille illuminates the Pharo in memory of the 1.5 million Armenians who were tortured, deported, imprisoned and killed by the genocidal madness of racist leaders," Payan said.
"Let's pledge today never to let the ferocious beast of nationalism take hold again."
On April 24, 1915, a large group of Armenian intellectuals was rounded up and assassinated in Constantinople by the Ottoman government. On April 24, 2022, Armenians worldwide will be commemorating the 107th anniversary of the Genocide which continued until 1923. Some three dozen countries, hundreds of local government bodies and international organizations have so far recognized the killings of 1.5 million Armenians as Genocide. Turkey denies to this day.