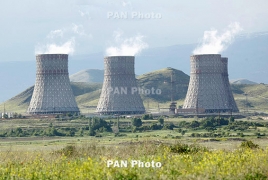 May 30, 2022 - 10:54 AMT
PanARMENIAN.Net - The Armenian Nuclear Power Plant is preparing to build a new storage facility for low- and medium-level solid waste, Director Movses Vardanyan has told Sputnik Armenia.
The plant will select contractors and conclude a contract the end of the year, Vardanyan aid, as well as specify the technical aspects of the project and waste disposal.
At the moment, technologies that are available commercially and have been demonstrated to be viable are vitrification and bituminization. In the event of the first, the waste is mixed with glass composite materials, which prevents radiation propagation. With bituminization, the waste is treated with bitumen, which also prevents radiation from spreading.
"Such technologies have not been used in Armenia before, but they can be taught to our nuclear scientists," Vardanyan added.