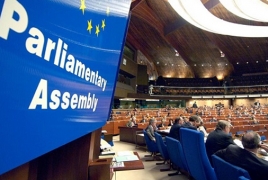 June 21, 2022 - 11:51 AMT
PanARMENIAN.Net - Lawmaker from the the opposition "I Have Honor" bloc Hayk Mamijanyan, as well as Armen Gevorgyan and Armen Rustamyan from Armenia bloc have met with PACE's co-rapporteurs for the monitoring of Armenia, Boriana Aberg (Sweden, EPP/CD) and Kimmo Kiljunen (Finland, SOC).
The lawmakers presented the actions of the opposition Resistance movement demanding the resignation of Prime Minister Nikol Pashinyan, as well as spoke about the "real red lines" on the Karabakh issue, the press service of the Republic Party of Armenia says.
"The speakers were also presented with facts about police violence, use of special measures, political prisoners were also mentioned," RPA said in a statement.
In recent months, protesters demanding the resignation of Prime Minister Nikol Pashinyan had taken to the streets to block major roads in the capital Yerevan and call on the population to commit acts of civil disobedience. Pashinian came under fire after he and Azerbaijani President Ilham Aliyev agreed to start drafting a bilateral peace treaty to resolve the Nagorno-Karabakh conflict and set up a joint commission on demarcating the borders.