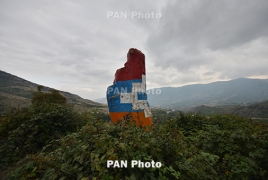 August 8, 2022 - 14:39 AMT
PanARMENIAN.Net - Nagorno-Karabakh (Artsakh) State Minister Artak Beglaryan has said that the loss of Artsakh will turn, if not the last, then the penultimate page of the Armenian history.
"Since Artsakh is of exceptional importance for Armenia and all Armenians, our only solution is to constantly and quickly increase the level of strategic resistance of Artsakh and Armenia, especially in the following areas:
– stable security,
– a growing demographic,
– a growing economy
– quality education,
– effective management,
– national ideology,
– pragmatic international relations," the State Minister said.
"The spirit of resistance of the people of Artsakh has not been broken, and we are ready and capable of self-defense."
Beglaryan noted that Azerbaijan continues the policy of Armenophobia and war, excluding the existence of the Armenian people at least in Artsakh, and in the future in Armenia.