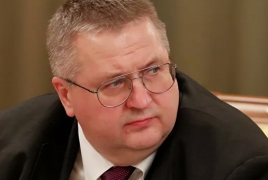 September 30, 2022 - 16:42 AMT
PanARMENIAN.Net - Russian Deputy Prime Minister Alexei Overchuk believes Armenia is "on the verge of" lifting its decades-long transport blockade.
Overchuk said an interview with Rossiyskaya Gazeta that the expansion of the Armenian economy and general integration achievements are taking place in conditions of a long-term transport blockade.
"Therefore, the prospects for overcoming transport isolation, unblocking economic and transport links in the region will give a strong impetus to the development of both Armenia itself and the entire region of the South Caucasus and adjacent countries, including Russia," the Russian Deputy PM said.
According to Overchuk, the positive effect for the Armenian economy is obvious and may turn out to be even more significant than the effect of the "first integration wave".
The Deputy PMs of Armenia, Russia and Azerbaijan, who co-chair a Trilateral Working Group, first meet in person on January 30, 2021 in Moscow to discuss new transport communications that would link Armenia, Russia and Azerbaijan. New rail and road routes in the South Caucasus are expected to connect the Azerbaijani Autonomous Republic of Nakhichevan with the rest of the country, for which a road will be built through the territory of Armenia. There will also be road and rail routes through the territory of Azerbaijan to connect Armenia to Russia.
Overchuk also denied that the provision of an "extraterritorial corridor" to Azerbaijan is being discussed.
"It is possible to open or build roads only after the parties clearly define the legal regime for crossing the border between countries, as well as traffic on these roads. It is important that during the negotiations a principle has been developed to form the basis of approaches to defining this regime," the official said.
"The principle sounds as follows: "Sovereignty over the road is exercised by the country through the territory of which the road passes." This means that if the road passes through Armenian territory, then this is an Armenian road, if [it passes] through Azerbaijani territory, then it is Azerbaijani. During the talks of the Trilateral Working Group of Deputy Prime Ministers, there is no word about any "extraterritorial corridor" that would in any way infringe on the sovereignty of any of the parties."
The Azerbaijani side has on multiple occasions spoken about a so-called "corridor" through the southern Armenian province of Syunik that would connect Nakhijevan to the rest of Azerbaijan. The Armenian side, however, has repeatedly denied being involved in negotiations for the provision of a corridor to Azerbaijan, stressing that they have only agreed to unblock transport communications in the region.