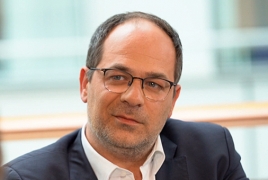 October 6, 2022 - 16:50 AMT
PanARMENIAN.Net - Member of the European Parliament Emmanuel Maurel has described Azerbaijan as the aggressor in the Caucasus, and Armenia as the attacked.
"In the Caucasus, there is an aggressor – Azerbaijan, and an attacked – Armenia," Maurel told European lawmaker on Wednesday, October 5.
"Madame von der Leyen (president of the European Commission Ursula von der Leyen – Ed.), who has just signed a gas agreement with Azerbaijan, is constrained. But we must not be timid in the face of this aggression and the war crimes that accompany it."
A new natural-gas pipeline delivering Azerbaijani gas from Greece to Bulgaria came into service on October 1, with von der Leyen maintaining that the project "means freedom".
The inauguration came amid Azerbaijan's aggression and war crimes against Armenia and the occupation of parts of the territory of Armenia.
The latest round of fighting between the two countries began in the wee hours of September 13, when the Azerbaijani military attacked Armenian posts and shelled Armenian settlements both on the border and deep behind the frontline. More than 200 people are dead or missing as a result, the Security Council of Armenia said on Monday.