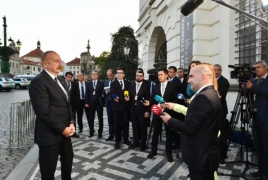 October 7, 2022 - 16:08 AMT
PanARMENIAN.Net - Armenians of Nagorno-Karabakh who don't want Azerbaijani citizenship can leave, Azerbaijani President Ilham Aliyev told reporters on Friday, October 7.
Aliyev said after meeting with Armenian Prime Minister Nikol Pashinyan in Prague that there can be no mention of Karabakh in the peace treaty that Azerbaijan and Armenia are working on.
"How the life of the Armenian population in Karabakh will be arranged is a separate story," the Azerbaijani President said.
"We are planning to intensify consultations within our foreign policy bloc and continue informal contacts with representatives of the Armenian population of Karabakh."
Aliyev said he believes communication will lead to a "full understanding" among Armenians "still" living in the zone of responsibility of the Russian peacekeeping contingent.
"Those who think they need to live as citizens of Azerbaijan, I think that they will not regret it. And if for some reason this does not suit someone, then they can choose another place of residence for themselves," he said.