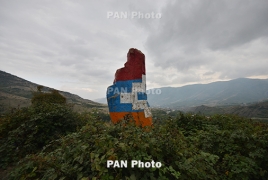 November 12, 2022 - 12:26 AMT
PanARMENIAN.Net - Prime Minister Nikol Pashinyan has said that Armenia can't fight by itself against the whole world with a veto when it comes to the Nagorno-Karabakh conflict.
According to him, the international community established in 1996 that the Nagorno-Karabakh conflict should be resolved within the territorial integrity of Azerbaijan.
Pashinyan's remarks came in an interview with the Public Television on Friday, November 11, after the journalist asked whether the Armenian authorities think Artsakh (Karabakh) is Armenia or part of Azerbaijan.
Pashinyan maintained that the Armenian government acknowledged in 2007 that "Nagorno-Karabakh is a part of Azerbaijan".
"Maybe the problem is that we do not correctly construct the relationship with reality. In fact, I am saying that the Republic of Armenia has also acknowledged that Nagorno-Karabakh is a part of Azerbaijan. Yes, the Republic of Armenia acknowledged in 2007 that Nagorno-Karabakh is part of Azerbaijan. After all, how long should we not register this?" the Prime Minister said.
According to the Madrid principles in 2007, the "final legal status of NK will be determined through a plebiscite allowing the free and genuine expression of the will2 of the population of NK. The modalities and timing of this plebiscite will be agreed by the parties through future negotiations as described in (9). The population of NK is understood as the population of all ethnicities living in NK in 1988, in the same ethnic proportions as before the outbreak of the conflict3. The formulation of the question or questions to be asked in the plebiscite should not be limited, and could cover the full range of status options".