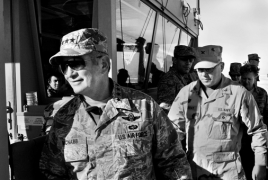 December 6, 2022 - 13:38 AMT
PanARMENIAN.Net - During the height of the war in Afghanistan, U.S. military leaders flocked to Azerbaijan to embrace its president, Ilham Aliyev, despite a report from the U.S. Embassy comparing the mustachioed strongman to mafia bosses in "The Godfather."
Setting aside concerns about Azerbaijan's culture of corruption, Pentagon officials persuaded Aliyev to open his country's borders and airspace to critical U.S. and NATO supply routes to Afghanistan. In exchange, U.S. officials promised a closer diplomatic partnership with Aliyev and steered $369 million in defense contracts to Silk Way Airlines, an Azerbaijan cargo carrier that U.S. investigators say was controlled by the government.
Two U.S. Air Force generals — Duncan McNabb and William Fraser III — who oversaw the supply routes from 2008 to 2014 later tried to cash in on their Azerbaijan connections. Upon retiring from active duty, the four-star generals negotiated valuable consulting deals with Silk Way Airlines, according to documents obtained by The Washington Post under the Freedom of Information Act. One of them stood to earn $5,000 a day.
The Pentagon and State Department normally rubber-stamp requests from retired U.S. military personnel to work for foreign powers or companies controlled by foreign governments, having approved more than 95 percent of applications since 2015. But when the Air Force learned about McNabb's and Fraser's business ventures in Azerbaijan, officials flagged them as a potential embarrassment and a risk to national security, the documents show.
The case triggered a prolonged internal battle between the retired generals and R. Philip Deavel, a civilian Air Force lawyer who feared that the consulting deals might trigger a scandal.
Other Air Force officials repeatedly sought to prevent the dispute from becoming public. Between 2016 and 2021, The Post submitted four separate FOIA requests that should have produced records about the case, but the Air Force either did not reply or said it could not find any documents.
This year, the Air Force finally released more than 400 pages of records — but only after The Post sued in federal court and presented written proof from another agency that the generals' conduct in Azerbaijan had generated an investigation.
The files provide an unusually detailed look at how two high-ranking U.S. military commanders tried to profit from foreign relationships forged during wartime, and at the Pentagon's struggles to police such behavior.
The documents reveal that Air Force intelligence officials objected to the Azerbaijan business deals for reasons that remain classified. Meanwhile, Deavel, who as the director of the Air Force Review Boards Agency was responsible for reviewing such arrangements, raised ethical concerns because the U.S. military had given extensive business to Silk Way Airlines while McNabb and Fraser managed the supply routes through Azerbaijan.
In a 2015 confidential memo, Deavel warned his superiors that "we should do nothing that would cause Congress or the media to question whether the hundreds of millions of dollars flowing to Silkway are solely for valid national security needs." The lawyer added that it might look like McNabb and Fraser knew "that a perk of office is a lucrative advisory contract from Silkway upon retirement."2
Fraser and McNabb are among more than 500 retired U.S. military personnel who have sought federal permission over the past eight years to accept jobs as consultants or contractors for foreign governments, according to a Post investigation. Most of the jobs originate in countries known for human rights abuses and political repression.