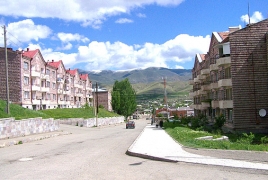 December 6, 2022 - 18:13 AMT
PanARMENIAN.Net - The housing problem of 5391 families affected by the 1988 devastating earthquake in Spitak has been resolved, Tanya Arzumanyan, Head of the Housing Fund and Communal Infrastructures Department of the Urban Development Committee of Armenia told a press conference in Yerevan.
"The beneficiaries of the state program implemented in the disaster zone are 5419 families registered in Shirak, Lori and Aragatsotn regions. At the moment, the issue of the majority - 5391 families - has been resolved. For these purposes, AMD 70 billion ($175 million) were spent," she said, writes Sputnik Armenia.
According to Arzumanyan, today only 28 families of the Jradzor community of Shirak region need to solve the housing problem. They preferred that a solution to their housing problem be considered as part of a program to populate the area near the Cape Reservoir.
In the earthquake of 1988, the cities of Gyumri (former Leninakan) and Spitak, which were destroyed to the ground, suffered the most. The cities of Vanadzor (Kirovakan) and Stepanavan, Artik and Maralik, as well as the villages of the current Shirak Lori and, in a small part, Aragatsotn regions, also suffered.