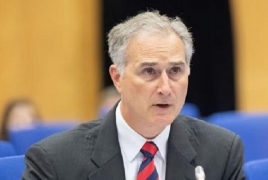 March 3, 2023 - 17:47 AMT
PanARMENIAN.Net - Senior Advisor for Caucasus Negotiations Lewis Bono is traveling to the region next week on his first trip in this role, Department of State spokesperson Ned Price said on Thursday, March 2.
"This is the first of what we will – what we expect will be regular travel to all three countries of the South Caucasus. Mr. Bono plans to meet with senior leaders to support the Armenia-Azerbaijan peace process and our sustained commitment to Georgia's sovereignty and territorial integrity. As I mentioned before, he will visit all three South Caucasus countries as part of his visit. He'll travel to Baku, to Yerevan, Tbilisi as well, in that order," Price told a briefing.
"This, we believe, will be an opportunity for Mr. Bono to build on the meeting between Secretary Blinken, Armenia's prime minister, and Azerbaijan's president at the Munich Security Conference a couple of weeks ago now, in mid-February. We – as we said at the conclusion of that trilateral engagement, we are encouraged by recent efforts by Armenia and Azerbaijan to engage productively on the peace process. And Mr. Bono helps to – hopes to be in a position to build on that effort, and to see that progress continue. In all three of these cities, Mr. Bono will emphasize the United States is committed to promoting a peaceful, democratic, and prosperous future for the South Caucasus region."
Since December 12, the sole road connecting Nagorno Karabakh to Armenia - the Lachin Corridor - has been blocked by self-described Azerbaijani environmentalists. Karabakh residents have reported food and fuel shortages, while hospital patients don't have access to essential medicines, with only a handful allowed transfer to facilities in Armenia proper.