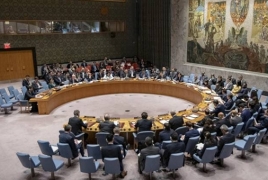 September 19, 2023 - 19:57 AMT
PanARMENIAN.Net - France has requested an emergency meeting of the United Nations Security Council to discuss Azerbaijan's aggression against Nagorno-Karabakh, the country's Foreign Ministry said in a statement on Tuesday, September 19.
"France condemns in the strongest terms the launch by Azerbaijan of a military operation in Nagorno-Karabakh, with the use of heavy weapons, including against civilian settlement. No pretext can justify such unilateral action, which threatens thousands of civilians already affected by months of illegal blockade and goes against the efforts of the international community to reach a negotiated settlement," the statement reads.
"France calls on Azerbaijan to immediately cease its offensive and to respect international law. It will hold Azerbaijan solely responsible for the fate of the civilian populations of Nagorno-Karabakh."
The Ministry also said that France has requested an emergency meeting of the United Nations Security Council.
"[France] is working closely with its European and American partners so that a strong response is provided to this unacceptable offensive, commensurate with the risks it poses to the security of the region," the statement added.
Shortly after launching the attack, the Azerbaijani Defense Ministry said that the Russian peacekeeping contingent deployed in Nagorno-Karabakh to help protect the Armenian population there had been notified about the attack in advance.
The Azerbaijani military earlier accused the Karabakh military of staging a provocation and planting a mine in territories controlled by Azerbaijan, which had allegedly caused the death of two civilians.
The Nagorno-Karabakh Defense Army denied the accusations on Tuesday. The Defense Army had been denying various accusations from Azerbaijan from quite some time.