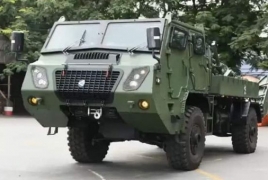 November 20, 2023 - 10:43 AMT
PanARMENIAN.Net - Indian Defence Company Bharat Forge Kalyani Group has confirmed a major export deal with Armenia. The agreement includes the sale of the advanced MArG 155 wheeled self-propelled howitzers and ATAGS 155mm towed guns, marking a new chapter in India-Armenia defence relations reports Army Recognition.
This deal follows Armenian Defence Minister Suren Papikyan's visit to the DefExpo-2022 in Gandhinagar, India, in October 2022, where India showcased its locally manufactured armaments and defence systems. The visit underscores the deepening military ties between the two nations, which have been on an upward trajectory.
The recent arms deal is part of a series of defence contracts between India and Armenia. In September 2022, Armenia signed a $245 million contract with India for the purchase of Pinaka multi-barrel rocket launchers, anti-tank rockets, and various types of ammunition. This followed a 2020 agreement where Armenia acquired four Swathi mobile radar units from India for $40 million, a deal that was recognized by the Stockholm International Peace Research Institute.
India's emergence as a significant defence equipment supplier is highlighted by these deals, showcasing its capabilities in military hardware and technology. The partnership also extends to joint exercises and training programs, enhancing interoperability and understanding of military tactics and strategies between the two countries.
The MArG 155mm / 39 cal - BR represents a leap in artillery technology, combining power, precision, and mobility. Equipped with a 155mm 39 calibre gun and a 4 x 4 wheeled chassis, it offers exceptional all-terrain manoeuvrability. Its ability to negotiate gradients up to 30° and its "shoot and scoot" capability make it a versatile and formidable weapon in modern combat scenarios.
Weighing 18 tons and capable of firing a complete range of NATO standard and in-service ammunition, the MArG 155mm / 39 cal - BR is both robust and adaptable. It can carry 18 rounds with Zone 5, ensuring sustained firing operations without immediate resupply. Its rapid deployment capability, taking only 1.5 minutes during the day and 2 minutes at night, is crucial for responding swiftly to battlefield demands.
The India-Armenia defence relationship is a testament to India's growing role in the global defence sector and Armenia's strategy to diversify its defence partnerships. This collaboration not only strengthens defence ties but also contributes to regional stability and security, reflecting the increasing importance of strategic and defence ties in their bilateral relations.