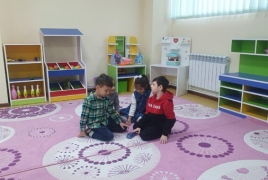 November 20, 2023 - 17:15 AMT
PanARMENIAN.Net - Viva-MTS and SOURCE foundation will support four families in Syunik through the program "Personal Assistant".
Families face numerous challenges when caring for children with special needs on their own. Many such families find it hard to overcome the psychological pressure. The child who is often isolated and is limited in communication within the family, becomes dependent on the mother who is the primary caregiver. It makes the child's socialization harder, affects his/her development and changes the entire family's rhythm of life. The personal assistant's support is highly important in remote regions where there's a lack of development centers.
The family of Ohanyans from Syunik has been going through these challenges for five years now, since the birth of their youngest son, Davit. His care requires a unique approach, but there are no development centers in Meghri. His parents heard about the program "Personal Assistant" and applied to become one of its beneficiaries.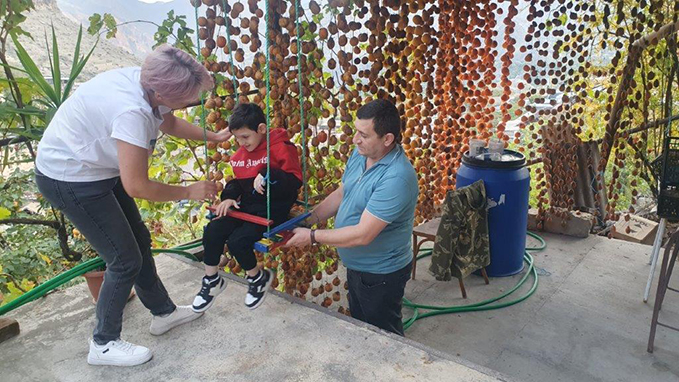 "I won't be exaggerating if I say I have been dreaming about personal assistant's help. There has never been a development center in Meghri. This program is like a lifeline for me. I've felt upset so many times unable to manage everything and provide my child with all he needs. Some things are beyond my power and knowledge. Now my dream is coming true: we'll have a personal assistant, and we'll take care of Davit together. A mother who has a child with developmental or health issues has tons to do. As for me, I couldn't afford to be weak, cry, or show emotions - they were a "luxury" to me. I've made so much effort to keep my family together, and I succeeded. Unfortunately, many families cannot overcome this challenge and end up divided. The difficulties we face are too many, but when you have a clear goal, you don't lose hope," says Gayane Margaryan, Davit's mother.
It's been 8 years, Viva-MTS and the "SOURCE" foundation jointly implement the "Personal Assistant" program in support of children with disabilities. Professional and experienced personal assistants offer 15-hour care and skill development for 4 months. In the past three years, this program has expanded, and includes all regions. This year the number of beneficiary families has exceeded twenty, with four of them living in Syunik.
Gayane considers this program irreplaceable. She is looking forward to meeting with the personal assistant, and hopes to overcome the challenges together. While she managed to integrate her child to some extent by ensuring his attendance to kindergarten, she acknowledges the indispensable role of professional assistance. Connecting with families facing the same problems has further strengthened her confidence.
Personal assistants possess not only specific professional knowledge, but also first aid skills, enabling them to provide necessary care. Teacher-assistants work with children at home, accompany them to school, other centers, and public places. There is also a control mechanism: a team of coordinating professionals collaborates with families and assistants to create a weekly individual plan for each child, and manage communication between the child, assistant, and parents.