PanARMENIAN.Net - 111 bodies of mummified men, women, and children are on display, many with gaping mouths shaped in eternal screams from having been buried alive and buried during the cholera outbreak in 1833. They were gradually dug up from their final resting places between 1865 and 1958 because their surviving relatives were unable or unwilling to pay taxes to keep them interred.
Weirdly, due to the extremely dry conditions of the soil, the corpses often came up as well-preserved mummies (the first to be dug up and found mummified was one Dr. Remigio Leroy on June 9, 1865.) The cemetery kept these strange mummified corpses underground in an ossuary — actually under the cemetery grounds itself — in case the relatives came around with the money wanting a re-burial.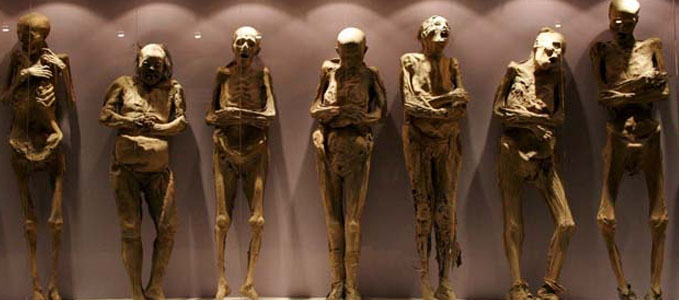 It has been estimated that approximately 2% of bodies mummified. These bodies were stored next to the graveyard, where workers charged locals 3 pesos to view the mummies. This practice of exhuming bodies continued well into the 1950s.
In 1970, a Mexican horror movie was produced there called "Santo Versus the Mummies of Guanajuato", starring masked wrestler Rodolfo Guzmán Huerta.
By 1894, the ossuary had racked up enough mummified bodies to rebrand itself as a museum to enter which 50 pesos ($2,5) are needed today.
In 2007, Guanajuato Mummy Research Project was initiated to raise awareness of the mummies,