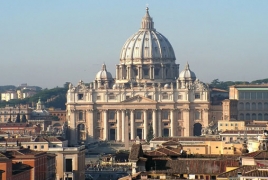 May 13, 2015 - 21:43 AMT
PanARMENIAN.Net - The Vatican concluded a treaty Wednesday, May 13, that formally recognizes Palestinian statehood, a step that immediately drew criticism from the Israeli government and a warning that it harms the Middle East peace process, the Washington Post reports.
The accord wraps up work by the Bilateral Commission of the Holy See and the State of Palestine and "deals with essential aspects of the life and activity of the Catholic Church in Palestine," according to a joint statement posted on the Vatican's website.
"Both Parties agreed that the work of the Commission on the text of the Agreement has been concluded, and that the agreement will be submitted to the respective authorities for approval ahead of setting a date in the near future for the signing," the statement said.
"Yes, it's a recognition that the state exists," said the Vatican spokesman, the Rev. Federico Lombardi, according to the AP.
However, Reuters news agency quoted Lombardi as saying that, while significant, the treaty was not the Vatican's first recognition of Palestine.
"We have recognized the State of Palestine ever since it was given recognition by the United Nations, and it is already listed as the State of Palestine in our official yearbook," Lombardi said, according to Reuters.
The Israeli Foreign Ministry condemned the move, saying it was "disappointed" by it.
"This move does not promote the peace process and distances the Palestinian leadership from returning to direct and bilateral negotiations," the ministry said in a text message. "Israel will study the agreement and will consider its steps accordingly."
Palestinian Authority President Mahmoud Abbas is scheduled to visit Pope Francis at the Vatican on Saturday ahead of the canonization of two new saints from the Holy Land on Sunday. Abbas previously visited Francis at the Vatican in 2013.
A Palestinian spokesman played down the development Wednesday, saying that the Vatican effectively recognized the state of Palestine in 2012 after the UN General Assembly accepted it as a non-member observer state.
The spokesman said there has been an ambassador from the state of Palestine at the Holy See for several years and that for at least that long, the Palestinian government has regarded the Vatican as one of the states recognizing Palestine. "Nothing new" occurred in Wednesday's exchange of documents, the spokesman said.