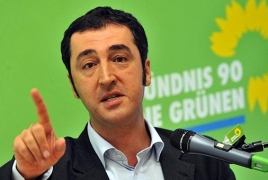 October 13, 2015 - 11:58 AMT
PanARMENIAN.Net - Germany's Green Party Co-chair of Turkish descent, Cem Ozdemir issued a statement on Ankara explosions, Ermenihaber.am reports citing Turkish Taraf newspaper.
According to Ozdemir, the government has organized the explosions itself to disrupt the normal course of November 1 elections and create chaos in in the country.
"They seem to be doing everything to hinder the organization of fair elections," he said, adding that in the case of impartial elections, the ruling AK Party and [Turkish President Recep Tayyip] Erdogan will not be able to secure a majority in the parliament.
Ozdemir called on the European Union to halt negotiations with Turkey. "Any agreement could imply that Erdogan is a normal party to talk to. We should avoid steps that can be interpreted as support for the Turkish President ahead of November 1 elections. A leader who creates chaos in the country for fear of having to answer for a possible defeat in elections is not a reliable partner," the MP said.
Ozdemir also said no matter who bears responsibility for the explosions, they targeted Turkey's Republican People's Party (CHP) and Peoples' Democratic Party (HDP), also participating in Ankara peace rally.