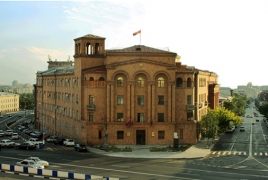 December 6, 2015 - 14:12 AMT
PanARMENIAN.Net - Groups of observers monitoring December 6's vote in the constitutional referendum already report alerts about violations at different polling stations, Armenia Now said.
The Civil Society Institute (CSI) and the Citizen Observer initiative say the alerts mainly concern violations regarding obstacles to the work of media and observers at polling stations, interference in the work of voting monitors as well as to ballot-stuffing.
In particular, at polling station 9/11 where President Serzh Sargsyan voted in the morning, Citizen Observer got alerts about the commission chairman forcing a number of reporters out of the premises, despite the fact that they showed their badges and were registered there. The commission chairman explained that to be present their media had to register at the presidential administration. The initiative says this demand constitutes a violation of Armenia's Criminal Code article 149.
Meanwhile, Past.am quotes Democratic Way party youth wing representative Vigen Davtyan as claiming there was ballot stuffing in polling station 6/25 in the Kasakh village of the Kotayk province. He claimed the violation was committed by polling precinct commission chairman Narek Mkrtchyan, while the ballot envelops were stamped by one of the commission members. According to Davtyan, the members of the commission refused to count the ballot papers inside the box and compare them with the number of voters who voted by that hour. The opposition party's representative reported the crime and a corresponding protocol was drawn up at the Territorial Election Commission.
The ballot in progress is on constitutional amendments envisaging Armenia's switch from the current semi-presidential to a parliamentary form of government.
Today's voting is being monitored by representatives of six international organizations, including the Parliamentary Assembly of the Council of Europe, OSCE / ODIHR, and the CIS Inter-Parliamentary Assembly, as well as more than 3,000 representatives of local nongovernmental organizations.