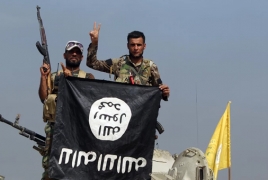 December 16, 2015 - 12:46 AMT
PanARMENIAN.Net - Islamic State is looking at potentially vulnerable oil assets in Libya and elsewhere outside its Syria stronghold, where the militant group controls about roughly 80 percent of the oil and gas fields, a senior U.S. official said on Tuesday, December 15, Reuters reports.
The official, who briefed reporters in Washington on condition of anonymity, said the United States was carefully examining who controlled oil fields, pipelines, trucking routes and other infrastructure in places that could be vulnerable to attack. Those include in Libya and the Sinai Peninsula, the official added.
"They are looking at the oil assets in Libya and elsewhere. We'll be prepared," the official said.
The United States has estimated Islamic State was selling as much as $40 million a month of oil, which was then spirited on trucks across the battle lines of the Syrian civil war and sometimes farther.
The United States recently targeted fuel trucks, part of a broadening of its strikes on Islamic State's oil wealth that the U.S. official said had showed anecdotal signs of raising the costs of Islamic State's oil operations.
"The costs of the operation have gone up and the ability to move it around has gone down," the official said.