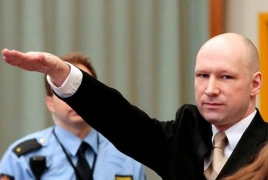 April 20, 2016 - 18:13 AMT
PanARMENIAN.Net - A Norwegian court ruled on Wednesday, April 20 in favor of mass murderer Anders Behring Breivik in his lawsuit against the Norwegian state, finding it guilty of "inhuman treatment" for keeping him in solitary confinement, AFP reports.
"The court... has concluded that the prison conditions constitute inhuman treatment," the Oslo district court said.
It said the rightwing extremist's almost five-year isolation violated Article 3 of the European Convention on Human Rights. Judge Helen Andenaes Sekulic ruled however that Breivik's right to correspondence, guaranteed by Article 8 of the convention, had not been violated, AFP says.
The 37-year-old far-right extremist, who said at a March hearing into his lawsuit that he was now a neo-Nazi, had asked for the restrictions on his correspondence and visits to be lifted so he could communicate with his supporters.
The state had argued the restrictions needed to be maintained because he was "extremely dangerous", and to prevent his supporters from carrying out future attacks.
Norway's most notorious inmate has been detained in a high-security prison unit since he massacred 77 people in a bomb-and-gun rampage.
He is serving a maximum 21-year sentence -- which can be extended if he is still considered dangerous -- for killing eight people in a bombing outside a government building in Oslo and then shooting dead another 69, mostly teenagers, at a Labour Youth camp on the island of Utoya on July 22, 2011.
Disguised as a police officer, he spent more than an hour hunting down the almost 600 youths trapped on the small island.
The state was also ordered to pay Breivik's legal fees of 331,000 Norwegian kroner (35,850 euros, $40,735).