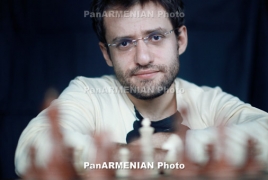 October 31, 2016 - 17:31 AMT
PanARMENIAN.Net - Armenian grandmaster Levon Aronian will participate in the Tata Steel Chess - 2017, held every year, usually in January, in a small town called Wijk aan Zee, the Netherlands, the Armenian chess federation said on Monday, October 31.
Also taking part in the tournament will be Magnus Carlsen (Norway), Sergey Karjakin (Russia), Wesley So (Philippines),Ian Nepomniachtchi (Russia), Anish Giri (the Netherlands) and several others.
Earlier, Aronian told reporters that he considers Carlsen, the reigning world champion his chief rival.
Strong chess players compete in the prestigious tournament, but regular club players are welcome to play as well. Since 1938, there has been a long list of famous winners, including: Tigran Petrosian, Paul Keres, Vladimir Kramnik, Garry Kasparov, Viswanathan Anand, Veselin Topalov, Aronian, Karjakin, Carlsen, and Hikaru Nakamura. Anand and Carlsen are the only players to have won five titles of the tournament, while Aronian has won four times.