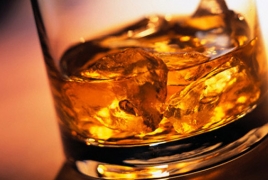 November 21, 2016 - 12:08 AMT
PanARMENIAN.Net - Kurds from Iraq risk everything as they smuggle alcohol brought from Armenia into Iran, Fox News said in an article, adding that 15 men die each month "while on mission."
On foot or horseback, hundreds of men meet Kurdish suppliers, picking up liquor that arrives in the beds of pickup trucks.
Most of the alcohol smuggled in is purchased in bulk from Armenia. Absolut vodka, Johnnie Walker scotch and counterfeit Grey Goose are among the popular labels. By the time it makes it through Kurdish territory and into the Islamic Republic, the price has tripled, Fox News says.
Smugglers, mostly poor farmers from both sides of the border, typically make around $60 per trip, which takes about six hours from pick-up to drop-off. Their suppliers make far more for their role in defying Tehran's hard line on booze.
The demand for alcohol inside Iran has risen steadily since it was outlawed following the 1979 Revolution. Consumption is deemed a "crime against God," and is punishable with lashes or even execution for multiple offenses.
665.000 liters or 1.330.000 bottles of alcohol were shipped to Iraq, mostly to Kurdish territories, in the first six months of 2016, which is twice as much as the amount exported in the same period last year, data from the Armenian Statistical Service reveal.