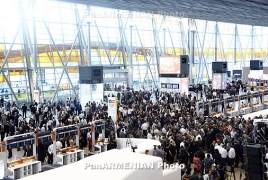 December 20, 2016 - 18:03 AMT
PanARMENIAN.Net - A quarter of those born in Armenia currently live abroad, a recent study by the Pew Research Center revealed.
The study uses 2015 data from the United Nations and shows that today nine countries have lost a fifth or more of their population.
In Bosnia-Herzegovina, one-third of the birth populations are now abroad, and 28% of Albanians and Jamaicans have also left their native country.
According to the report, one out of five among the native-born population of Kazakhstan, Syria, Trinidad and Tobago, Macedonia and Portugal live in other countries.
In some cases, the reason is obvious: conflict or physical danger are causing people to flee, the study said, citing the fighting in Bosnia-Herzegovina, which broke out in the 1990s, forcing many to leave the country.
"There have been more recent cases of exodus: 22% of (or 5 million) Syrians, have left since 2011, coinciding with the outbreak of civil war," the analysis said.
"Others leave in order to seek improved economic opportunities."
The research focuses on those countries where the highest proportion of the population has emigrated. When looking at bare numbers, however, none of these countries appears in the top five.
Those with the largest numbers of people not living in their birth countries are India (15.6 million emigrants), Mexico (12.3 million), Russia (10.6 million), China (9.6 million) and Bangladesh (7.2 million).