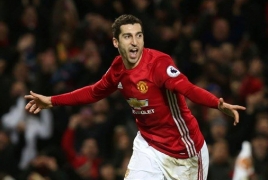 March 9, 2017 - 12:35 AMT
PanARMENIAN.Net - Manchester United team must be built around Henrikh Mkhitaryan without Zlatan Ibrahimovic, football writer Samuel Luckhurst says in a new article on the Manchester Evening News.
Ibrahimovic is available for the Europa League first leg with Rostov but won't be against Chelsea next week.
"If United are seeking positive spin they can use Henrikh Mkhitaryan," Luckhurst says.
Jose Mourinho chose not to risk him against Bournemouth and has taken the Armenian to Rostov, rather than preserving him for the FA Cup quarter-final at Stamford Bridge.
"That explicit acknowledgement of Mkhitaryan's importance comes after Mourinho effectively prioritised the Europa League. It is arguably United's best route back into the Champions League and Mourinho needs his best players."
"Mourinho appeared to put character ahead of talent earlier in the season and it is an introvert who has emerged as the pivot of a United side previously dominated by extroverts. It is Mkhitaryan - not Paul Pogba - who is about to inherit the baton from Ibrahimovic," Luckhurst goes on to say.
"Mkhitaryan can seize ownership of the United side without Ibrahimovic. The style will have to differ with a younger and more flexible figurehead which could possibly suit Mkhitaryan more than having an old-fashioned bruiser in the box like Ibrahimovic.
"Mkhitaryan is prompt on the counter-attacking. Borussia Dortmund had Pierre-Emerick Aubameyang and Marco Reus inviting Mkhitaryan to feed them and United could have Marcus Rashford and Anthony Martial to dovetail with Mkhitaryan at Chelsea. Juan Mata is an acceptable alternative.
"Mkhitaryan can lead United on the pitch."
Teammate Marcus Rashford said recently that Mkhitaryan looks quicker with the ball.
"When he's dribbling with the ball it's like he finds another gear, maybe it's mentally but he looks quicker with the ball than without it."