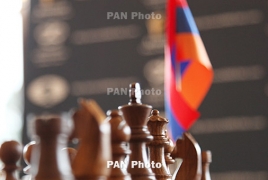 September 25, 2017 - 11:19 AMT
PanARMENIAN.Net - Armenia's Sergei Movsesian and Gabriel Sargissian drew their respective games at the Round 2 of the Isle of Man chess tournament on Sunday, September 24.
Varuzhan Akobian and Krikor Mekhitarian, both of Armenian descent and representing the United States and Brazil, respectively, also reached draws in the second round.
Ahead of the third round set for Monday, September 25, Movsesian, Sargissian and Mekhitarian have 1.5 points each out of a possible 2, while Akopian has only half a point.
Magnus Carlsen and Viswanathan Anand are among the leaders of the tournament, with a lot of big names taking part in the event to boost their ratings to be eligible to make the field for next year's Candidates tournament.