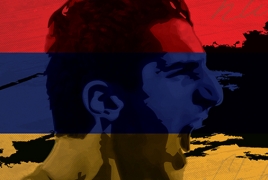 November 17, 2017 - 12:02 AMT
PanARMENIAN.Net - MUTV's new feature documentary 'Micki: An Armenian Hero' premiered on Thursday, November 16 night, with Henrikh Mkhitaryan recalling the momenthe knew Manchester United wanted him and how it was his 'dream' to become a footballer after his father, Hamlet, passed away in 1996.
"I've trained very hard to reach my goal," he says. "In football, everything is about click."
The filmmakers travelled to Yerevan in Armenia, where they interviewed fans and friends of the Mkhitaryan family.
"Last summer, my agent called me and said that Manchester United was interested in signing me. It took me by surprise.
"I said, 'Is it real? Or is it just speculation?'
"A few days later, Manchester United's interest was confirmed when I got a call from Ed Woodward, their executive director. He told me that the club was indeed interested in me.
"While my agent and the club were negotiating the transfer, I had time to consider my options. I knew it would be a challenge to leave a good situation at Dortmund and succeed at United, but I did not want to sit in my chair as an old man and have any regrets. I was ready to move," Mkhitaryan said.
"I do't like to speak too much, I like to work more. In just one click everything was amazing for me." He's referring to that goal again on Boxing Day, which was United's Goal of the Season.
The documentary then segues onto the topic of Hamlet Mkhitaryan and his passing.
"When he passed away I said, 'I want to become a footballer.'
"He was always buying me the stuff that I wanted, he was really taking care of me, my sister and my mother. He was a wonderful football player and a wonderful man," the midfield Armenian said.
"When we came back to Armenia from France, we had problems with the light and water, people were suffering. We had a difficult childhood but we could survive and now everybody is happy living in good conditions."