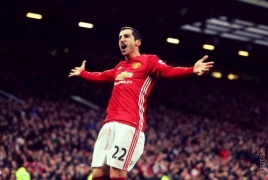 November 27, 2017 - 12:55 AMT
PanARMENIAN.Net - Football fans around the world are haunted by a question: how a young man from Armenia became a midfielder for Manchester United and the captain of the national team? MIR 24 TV channel met with Henrikh Mkhitaryan's mother and prepared a material about the Armenian footballer.
"She is known as 'the mother of the Armenian team'. This summer she received the 'Armenian of the Year' award for the development of national football. Marina Tashyan's whole life and career has been connected with this sport. The widow of famous striker (Hamlet Mkhitaryan) and the mother of the famous midfielder now heads one of the departments of the country's football federation," the TV channel said.
Henrikh was the second child in the family and was born there months after Tashyan's father died.
"There was a strong depression after his death, and Henrikh filled this void. He was named after my father," Marina says.
A few years later, Tashyan's beloved husband - Hamlet Mkhitaryan - died. In the final years of his life, he played for the French club Valence, but due to the serious illness, the family returned to Armenia.
After Hamlet's death, Henrikh started playing football and went on to be become the first Armenian player to win a trophy in the Premiere League.