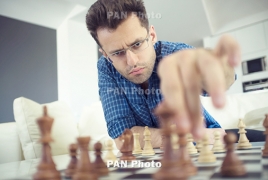 December 25, 2017 - 12:29 AMT
PanARMENIAN.Net - Armenian grandmaster and world No. 2 Levon Aronian will take part in the five-day King Salman World Rapid and Blitz Championships in Riyadh starting on Tuesday, December 26.
Aronian won the Stavanger-hosted Norway Chess tournament in June 2017, the Saint Louis Rapid and Blitz tournament two months later, and snatched the World Chess Cup victory in Georgia in late September. Also, the Armenian grandmaster won the fourth leg of the FIDE World Cup in Palma de Mallorca, Spain.
Other notable entries include reigning world champion Magnus Carlsen, world no.3 Shakhriyar Mamedyarov of Azerbaijan, former World Champion Viswanathan Anand of India, incumbent World Rapid and Blitz Champions - Sergey Karjakin (Russia) and Vassily Ivanchuk (Ukraine) - along with over 180 top grandmasters from more than 40 countries.
The dress code of the event will be dark blue or black formal suits, with white shirts, either open necked or with a tie, for men and dark blue or black formal trouser suits, with high necked white blouses for women. There will be no need to wear a hijab or abaya during the games, this will be a first for any sporting event in Saudi Arabia.