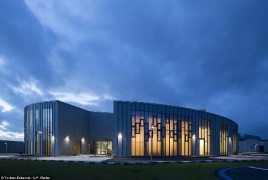 December 25, 2017 - 15:57 AMT
PanARMENIAN.Net - The architect behind the 'most humane' maximum security prison in the world has said his luxury lock-up - which features spacious bedrooms, grass lawns and modern kitchens - is designed to lower re-offending rates, the Daily Mail reports.
Newly opened Storstrøm Prison - near the town of Gundslev in Denmark - has been created to feel like a university campus, with a minimalist Scandinavian look modelled on a traditional Danish village.
Costing over £100million and taking five years to build, Storstrøm can hold 250 prisoners in its 40 square foot cells - each of which comes with a fridge, 22-inch TV, large window and wardrobe.
Mads Mandrup, a designer at CF Møller Architects, told Co.Design the jail was created to lower crime levels - something 'traditional, less humanistic prisons' fail to do.
He explained: 'We truly believe, and evidently the statistics support us in this, that a hard and less-stimulating environment creates more re-offenders.'
The cells resemble dorm rooms rather than the bare, cramped and intimidating rooms usually associated with prisons.
Inmates get a comfortable bed, desk with reading lamp, private bathroom and a share in communal kitchens where they can make their own food.
There are also colourful common rooms for the criminals to socialise.
The intention is to give the prisoners - most of whom are locked up for violent crime - as much of a normal, free existence as possible in a bid to accustom them to life in the outside world.