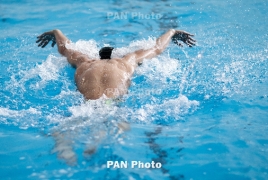 December 26, 2017 - 13:42 AMT
PanARMENIAN.Net - The International Vladimir Salnikov Cup Swimming Tournament was recently held in Saint Petersburg, Russia, with Artur Barseghyan, Levon Khachatryan and Levon Vardanyan representing Armenia.
The Armenian swimmers performed quite well to register new records both for Armenia and for themselves.
In the 50 meter butterfly event, Barseghyan with a 0.25.19 result set a new record for Armenia, and another one for himself in the 100 meter freestyle event.
Khachatryan, in turn, improved his personal results in the 50 and 100 meter breaststroke even, while Vardanyan set a personal record in the 50 meter breaststroke.