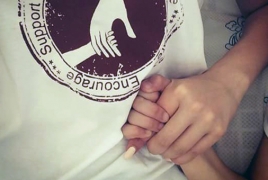 January 12, 2018 - 12:23 AMT
PanARMENIAN.Net - 40 children with special needs have benefitեդ from the specialized personal assistant service in Yerevan thanks to VivaCell-MTS support in the past 2 years. In order to provide efficient assistance to children with disabilities, the Source Foundation, established in Armenia four years ago, has also included the kids' families in its target group. As a result, an important change happens not only in the lives of these children but also in their families. Children with disabilities and special needs overcome self-isolation and are no longer limited to contact only with their mothers, enabling the families to return to the normal rhythm of life.
In 2014, VivaCell-MTS started to support different projects of the foundation helping them achieve the goals set. In 2017, special activities were implemented with 40 children for 8 months, 3 days a week, 6-8 hours a day at home, outside, at schools and rehabilitation centers. Specially trained individual tutors worked with the children at development and care centers. The individual tutors' work was supervised by 3 senior specialists who developed the overall individual plan of working with the child to develop and improve their physical condition, as well as to regulate and make the work more effective in the child-tutor-parent chain.
Marina Parazyan, the director of Source Foundation, says that they have managed to achieve the key objectives of the program. In particular, the Foundation has succeeded in uniting various organizations providing specialized care to children with disabilities, as well as in creating jobs for young specialists in this area, supporting the families in the target group and helping the children.
The development of each child includes care, development of self-service skills, guidance at schools or at different development centers, continuous active work with individual development plans for each child. The team of pedagogue-tutors and coordinators has succeeded in reaching tangible results, ensuring that children are provided with independent, joyful and quality daily occupation, while parents are given the opportunity to rest, study, and return to normal life.