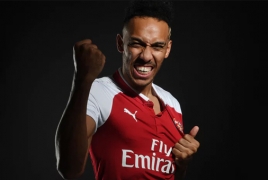 January 31, 2018 - 17:10 AMT
PanARMENIAN.Net - Arsenal have finally admitted that Henrikh Mkhitaryan leaked Pierre-Emerick Aubameyang's transfer after completing his move from Manchester United last week, Metro reports.
After the Gunners had announced Mkhitaryan's arrival, the club released a behind-the-scenes video of the midfielder putting the final touches on his switch to Arsene Wenger's side.
Everything appeared to be going smoothly until Arsenal fans with bat-like hearing picked up the Armenia international saying: 'Yo, Pierre. You wanna come out here?' during a short clip.
The midfielder's words were obscured by the music but Arsenal's supporters were convinced that Aubameyang was going to be their next signing.
Arsenal fuelled speculation even further by deleting the video from their official YouTube account.
After another week of negotiations and the threat of Borussia Dortmund postponing the transfer until the summer, Arsenal completed their £56 million deal for Aubameyang on deadline day.
Shortly after the striker's official announcement, Arsenal posted a video of Mkhitaryan welcoming his new teammate. And the clip was clearly the one which was accidentally leaked over a week ago.