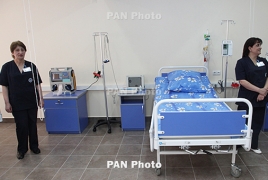 February 5, 2018 - 10:46 AMT
PanARMENIAN.Net - Cancer morbidity rate has stabilized to some extent in Armenia, with the number of those diagnosed with malignant neoplasms growing just 0.04% in 2016 against the 8,372 in 2015 and 8,365 in 2014, the health ministry said recently.
Malignant neoplasms of respiratory organs, bladder, prostate and stomach are most common among men, while cancer of breast, colon, uterus and cervix are most common among women.
According to the health ministry, risk factors may significantly increase a person's chances of developing cancer.
Smoking, among them, is a key factor, with the use of cigarettes causing 16 types of malignant neoplasms.
Infections such as papilloma virus, hepatitis B and C, Epstein-Barr virus and others are among the most important risk factors too, accounting for 15-20% of cancer diagnoses.
Alcohol abuse, wrong diet, ultraviolet radiation, obesity may also contribute to the development of cancer
Cancer can be prevented and treated efficiently, especially in the event of early diagnosis, the ministry says.
The following actions will help reduce the risk of cancer and, if developed, considerably improve the likelihood of a positive outcome:
- do not smoke and do not allow others to smoke next to you and your family,
- be physically active for at least 30 minutes every day,
- keep a healthy diet, limiting the use of alcohol, processed foods and salt,
- avoid long exposure to ultraviolet rays,
- go see your doctor at least once a year for preventive purposes, and immediately after discovering any neoplasms, participate in screening programs, and always consult your doctor for the treatment and management of chronic diseases,
- vaccinate against human papilloma virus and hepatitis B.