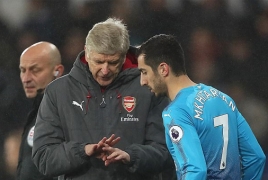 March 1, 2018 - 11:57 AMT
PanARMENIAN.Net - Armenian midfielder Henrikh Mkhitaryan has said that Arsenal players should do their best to show "we are ready to fight for" chief coach Arsene Wenger.
In an interview with Sky Sports, Mkhitaryan and Gabon international Pierre-Emerick Aubameyang said they realise the club are going through a tough time, but insisted the players must unite and show they are playing for Wenger.
Arsenal were lacklustre in their 3-0 defeat by Man City in the Carabao Cup final at Wembley, and the two sides face each other again on Thursday, march 1 in the Premier League at the Emirates.
The pair, who played together in the Bundesliga at Dortmund, are positive for the future at Arsenal, and insist there is more than enough quality at the club to turn fortunes around.
Mkhitaryan said: "It's not the easiest time for the club, but we are here to help, do our best, and put Arsenal on the level that it was before. I know it's not going to be easy, but we're trying, and doing our best.
"It's a pleasure to work with [Wenger]. He knows a lot about football, he can give you good advice, and I'm very happy to be here.
"Of course it's not very easy for him either, but we have to play for the club, play for him, because he is a big role model for this team, big person at this club, so we have to do our best to show we are ready to fight for him."
Aubameyang added: "I think it is a difficult moment, but I think we've played against great teams, and I think we just have to be united, keep going, working hard and that's the way to follow.
"He is a great manager, everyone knows it. OK, it is not an easy moment, but we have to give our best to show him that we play for him and give everything for him."