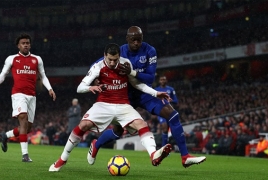 May 15, 2018 - 11:47 AMT
PanARMENIAN.Net - For Arsenal, to get Armenian midfielder Henrikh Mkhitaryan in return for Alexis Sanchez was more like an upgrade than a replacement, FanSided soccer editor Josh Sippie says in a new article.
According to Sippie, Arsenal were (and will continue to be) significantly buoyed by Mkhitaryan.
Arsenal made two massive moves (three, counting Konstantinos Mavropanos) in January. They completely changed the look of their attack by swapping Olivier Giroud for Pierre-Emerick Aubameyang and Sanchez for Mkhitaryan.
Although, if you ask Mkhitaryan, that isn't what happened. According to Mkhitaryan, he was brought in completely separately, and not as a replacement for anybody. Which may just be some way of him covering for something or another, but what actually happened is exactly what he says wasn't the intention – he replaced Alexis Sanchez.
"And this is what makes us love Mkhitaryan so much already. Because the situation with Alexis was sticky and nasty and everyone was sick and tired of him moping all the time. It got to the point that most didn't even care if he was outright sold," Sippie says.
"To get Mkhitaryan in return may not have been a straight replacement, as the Armenian claims, but in the end, it was. Because what we got in Mkhitaryan was what we had been hoping to get out of Alexis, which is what makes this more like an upgrade than anything else.
"With Alexis, we had someone who wanted to do it all himself. Yes, he had clever touches and a fierce shot, but his frustration turned into lost possession as he attempted to take on an entire defense all at once.
"Mkhitaryan has the same desire to be the hero, but he handles it in different ways. There is still a bit of possession loss (not nearly as much), but there is a hell of a lot more give-and-go, off the ball movement, and just all-around team play. He has speed, like Alexis. He has soft feet and dribbling ability, like Alexis. Hell, he even has a fierce shot.
"But it's his creativity that really lifted the team and provided a foil for Mesut Ozil, which is exactly what was needed. There's a reason why, in about 200 less minutes played, Mkhitaryan managed more goal contributions than the man he swapped with at Manchester United.
"Maybe it wasn't meant as a straight swap, but it worked out exactly like one, and Mkhitaryan should embrace the fact that he helped Arsenal completely forget about the headache that Alexis had become, because it makes him even more heroic than he thinks."
Mkhitaryan swapped Old Trafford for the Emirates in January, as United signed Sanchez from the Gunners.
In a recent interview, the Armenia international slammed the suggestion he was a makeweight in the deal which saw Sanchez leave Arsenal for Manchester United