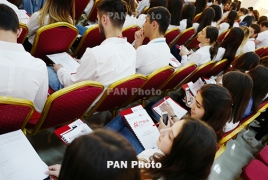 May 24, 2018 - 18:12 AMT
PanARMENIAN.Net - Youth Empowered, an initiative of Coca-Cola Hellenic Armenia has launched in Yerevan. The 3-year initiative, implemented within the framework of a Memorandum of Understanding signed between the Ministry of Education and Science and Coca-Cola Hellenic Armenia, is aimed at reducing unemployment among the youth. By 2020, the program envisages to support as many as 8000 young participants with life and business skills trainings. 300 youth have already participated in a full day Life Skills training, held in Yerevan.
"Youth empowerment is one of the key pillars in our corporate social responsibility program. As a large employer, we have a very thorough understanding of personal and professional skills that are in great demand today in the Armenian labor market. We believe this project will contribute to the career development of our young participants, helping them to reach their professional potential. The number of registered users has already reached 1900. We are very glad to see such an active participation among the youth living in Yerevan and the provinces, which shows that this initiative is both relevant and necessary," said Christoph Speck, General Manager of Coca-Cola Hellenic Armenia.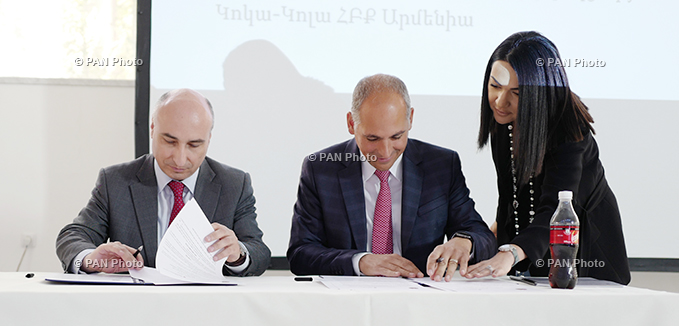 In the first stage of Youth Empowered, with the help of experienced mentors program participants acquire self-development and self-assessment skills, including online and offline networking, receiving and giving feedback, writing a cover letter, CV. In the next stage of the program, participants learn business skills, such as time management, project management, communication, negotiation and sales skills, business planning as well as financial literacy. Apart from Yerevan, trainings will be organized in Shirak, Lori, Tavush, Gegharkunik, Kotayk, Aragatsotn and Syunik provinces. 128 participants have already attended the first Life Skills course in Shirak. The next regional training will be held in Lori.
Participants and mentors can join the program by filling in the form at https://goo.gl/oRf48T and https://goo.gl/qE9X3W online applications.
"The Ministry of Education and Science attaches importance to organization of such events as there can be no quality education without cooperation with the private sector. The Ministry also encourages such initiatives, as it is the employer that selects employees. The role of the Ministry of Education is to provide the highest possible quality of education, but the recruiting and training of staff is carried out by the employer. I see the excitement of these young people and that serves as the greatest inspiration to the Ministry, "said Nairi Harutyunyan, Head of Staff of the Ministry of Education and Science.
Registration, coordination of training sessions, as well as all organizational works of "Youth Empowered" are carried out by International Academy of Business.
"Given the modern economic challenges, knowledge alone is not enough to succeed in the professional field. Young specialists equipped with life skills will be the pillars of public and private sectors in Armenia. Trainings held with participation of skillful mentors are one of the new approaches that the IAB International Business Academy has recorded as the most efficient based on our more than 18 years of experience, " said Araksia Martirossian, Founder and CEO of IAB International Business Academy.