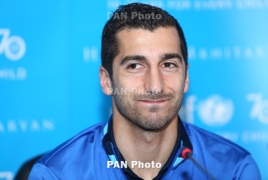 June 9, 2018 - 13:14 AMT
PanARMENIAN.Net - In a video prepared by the Emirates airlines, captain of the Armenian national team and Arsenal midfielder Henrikh Mkhitaryan has revealed his thoughts about home, childhood in France and Armenia and the struggles he fought when joining a foreign club for the first time.
Asked be fellow Gunner Pierre-Emerick Aubameyang where he calls home, Mkhitaryan reminded that he spent most of his childhood in France.
"I would say Valence, because my father used to play there.
"But also Yerevan because I have most of my family members, my friends there, and the Armenian population which I can call my friends. Of course it always gives me pleasure to go back to Yerevan and spend some time there."
"I left home to play for a foreign team when I was 20 years old. Of course it was a bit strange because I knew I am going to move totally on my own, no one would be next to me, but I could understand that it's a dream that I have to fulfill to look forward and to start to build a new life," said the Armenia international.
The two January signings of Arsenal, who played together for three seasons in Borussia Dortmund, also pondered on what they usually take with them to feel closer to home.
"My thoughts, my memories. They are the best thing you can take with you, no matter where you are. Your memories and thoughts can take you wherever you want to be," Mkhitaryan said.