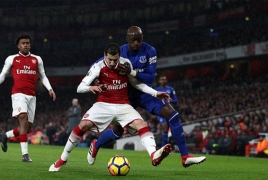 August 6, 2018 - 13:58 AMT
PanARMENIAN.Net - People will try to tell you pre-season is irrelevant, but in Arsenal's friendly win over Lazio, Henrikh Mkhitaryan proved it matters so much it can kill a person's soul, Planet Football .
You might not be able to read too much into pre-season friendlies, but that doesn't mean you can't enjoy them.
They are best appreciated as the bit of fun they are, a chance for players to audition for first-team spots but also, above all else, to enjoy themselves.
The video below shows the righteous anger of a Lazio player as Mkhitaryan works his magic in Arsenal's pre-season victory over the Italian club.
"The upcoming season feels like a huge one for Mkhitaryan. He now has a full pre-season at Arsenal under his belt, as well as a new manager to impress and a proper run in a Premier League campaign alongside his old Dortmund partner-in-crime Pierre-Emerick Aubameyang," the article says.
"He may have stalled a little at Manchester United under José Mourinho, but even then he was able to demonstrate his eye for a nutmeg – not just as a piece of skill in its own right, either.
"There are a few different playground rules when it comes to nutmegs – you need to shout 'megs' first, you need to collect the ball the other side or it doesn't count – but Mkhitaryan has consistently brought at least the second of those into competitive play."