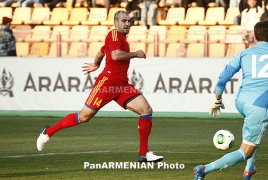 October 9, 2018 - 11:02 AMT
PanARMENIAN.Net - Armenian striker Yura Movsisyan is returning to "a new free Armenia" after he was invited to join the national football team under new head coach Armen Gyulbudaghyants.
"After 3 years of not playing for my National Team, I have decided to go back and play again," Movsisyan said in a Facebook post.
"I didn't think I would ever return because of everything that happened but we have a new free Armenia and nothing makes me more proud than to join my team.
"Can't wait to land in Armenia and start our new journey. Hope to see a full stadium at our games on the 13th and 16th. Only way we will get back to winning ways is with the support of our fans."
The forward, who currently plays for Chicago Fire, used to play for the Armenian national team but had been dropped from the squad for several years.
Armenia's next fixtures will be against the teams of Gibraltar and Macedonia on October 13 and 16, respectively, within the UEFA Nations League.