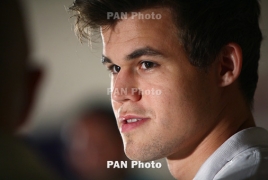 November 29, 2018 - 12:43 AMT
PanARMENIAN.Net - For 20 days the world's two best grandmasters sat in a soundproof studio in central London, with only a chessboard, their thoughts, and each other for company. But finally, after 15 games, 773 moves and 51 hours of simmering tension, the Norwegian world championMagnus Carlsenheld his nerve, and his crown, with an emphatic rapid-play victory over the US challenger Fabiano Caruana, the Guardian reports.
Some had wondered whether Carlsen, the world's No1 ranked player for the past eight years and the world champion since 2013, had lost his mojo because of his diffidence during the classical matches, which were all drawn. Yet over the shorter four-game rapid-play format – where players have just 25 minutes for all their moves, along with a 10-second increment – he was a different animal, crushing his opponent 3-0.
Carlsen defeats Caruana to retain World Chess Championship in tie-breakers – as it happened Read more "I am very happy," a smiling Carlsen admitted afterwards. "I felt like I had a really good day at work. Everything went perfectly."
Chess has been the sleeper hit of the autumn, with online audiences growing with each passing day despite no decisive results in the 12 classical matches for the first time in the competition's 132-year history. Naturally the prospect of the first American world champion since Bobby Fischer in 1972 had also attracted a large contingent of US networks to the College in Holborn, all scenting an upset. Carlsen, though, had other ideas.
He visibly relaxed after winning a tricky endgame in the first game, and two more smooth victories ensured he took the winner's prize of €550,000 (£486,000). Caruana at least had the compensation of returning to St Louis with the €450,000 (£398,000) runners-up prize.