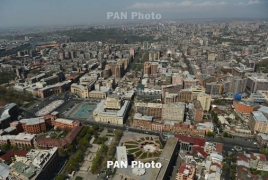 January 9, 2019 - 16:54 AMT
PanARMENIAN.Net - Raising its score to 4.79 in 2018 - from 4.11 a year earlier - Armenia has jumped in its ranking from 111 to 103 in the Economist Intelligence Unit's annual report on democracy, which measures a total of 167 countries worldwide.
The report gives each country a 0 to 10 score based on concrete indicators (electoral processes and pluralism; civil liberties; functioning of government; political participation; and political culture), with 0 being negative and 10 positive. According to the report, based on their management systems the countries are classified into four main groups: full democracies (8-10), flawed democracies (6-8), hybrid regimes (4-6), and authoritarian regimes (0-4).
Armenia saw the most improvement among all "hybrid regime" countries in eastern Europe in 2018, the study reveals.
"The 'velvet revolution' against an attempt by Serzh Sargsyan, the former president, to stay in power by switching to the post of prime minister resulted in the appointment of Nikol Pashinyan, an opposition leader, as prime minister. Pashinyan's opposition coalition subsequently swept the Yerevan municipal election and won a staggering 70% of the vote in a parliamentary election in December 2018," the reports reminds.
"These developments, and Pashinyan's subsequent anti-corruption campaign, improved the country's scores for government accountability and transparency.
The EIU assessment maintains that recent developments in the country also resulted in a vast improvement in citizens' perception of corruption and confidence in the government and political parties.
Meanwhile, Georgia and Azerbaijan are ranked the 89th and 149th, respectively.