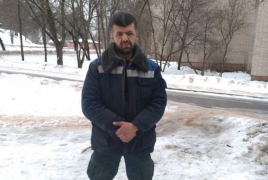 February 13, 2019 - 14:45 AMT
PanARMENIAN.Net - On February 10, firefighters from the Russian city of Luga received a message about a fire in a one-room apartment on the first floor of a five-story building. The incident was reported by the neighbors and worker of the local management company Aleksandr Vardanyan.
The worker was repairing the roof of the house. Smelling the smoke, he went downstairs and saw smoke coming out of the doorway of one of the apartments. While the neighbors were calling for firefighters and an ambulance, the man waited for the elderly owner of the apartment to unlock the door.
Upon learning that small children were locked up in the apartment, Aleksandr immediately came to the rescue, without waiting for the firefighters to arrive. Risking his own life, the worker crawled into the room, gropingly found the hand of the girl lying unconscious on the floor, then gently pulled the victim into the street, 47channel.ru reports.
The firemen who arrived at that same moment saved the boy from the burning room. The children were hospitalized in serious condition.
Unfortunately, the boy died in hospital. The girl named Nastya who was saved by Aleksandr on time is still in serious condition in hospital.