PanARMENIAN.Net - The bridge that was built 300 meters above ground to attract more tourists to the canyon replaced a terrifying wooden one. 11 engineers working 12 hours a day converted it to glass. Previously, you were considered brave if you steeled yourself to cross the wooden walkway; now, with its glass bottom, the bridge is already being referred to as "hero bridge."
Steel beams support the structural glass plates, which Tel Aviv-based Dotan used to make the bridge as "invisible".
Glass bridges in China have been a popular craze for the daring photo opportunities they provide. Events like mass yoga displays and even weddings have been staged on several such bridges. One couple celebrated their special day by dangling in mid-air from a bridge in Pingjiang, also located in Hunan province.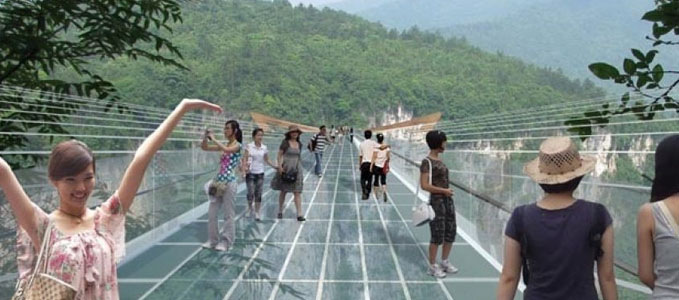 Before the opening, officials have staged high-profile events to try and reassure the public of the bridge's safety. They sent in sledgehammers and even drove a car, filled with passengers, across the bridge.
"The Zhangjiajie Glass Bridge was designed to be as invisible as possible – a white bridge disappearing into the clouds," Dotan was quoted as saying by Dezeen.com. "As the designer of this bridge located in an incredible and magical national park, I believe in nature, harmony, balance and beauty. Nature is beautiful as is. One wants to make the least impact upon it."
The bridge rests on the edge of two cliffs and is suspended 300 meters above the ground by stay cables. Wavy slatted handrails line edges of the glazed walkway, which narrows towards the center of the canyon to create an exaggerated perspective.
The bridge is capable of holding up to 800 people at any one time and has already been used as the launch point for the world's highest bungee jump, said the architect.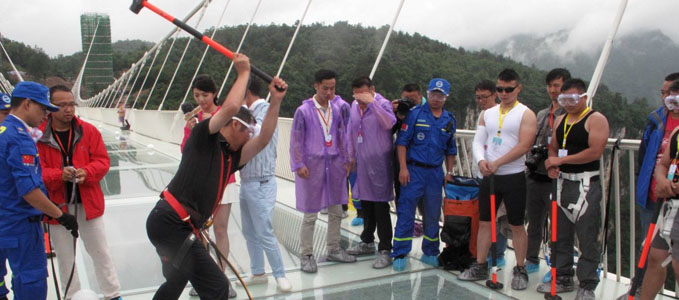 There were plans for the bridge to include three swings and a bungee jump. In addition to being a destination for tourists and thrill-seekers, there was talk of the bridge serving as a runway for fashion shows.
"It will create an experience of being in pure nature while suspended in mid-air, between heaven and earth, like a bird with its wings open wide," said the architect. "I called it Bridge of Courageous Hearts."
However, the record-breaking glass bridge was shut down after being open for just 13 days, being unable to stand up to all the hype with scores of tourists traversing the span. Officials at Zhangjiajie said bridge had 10 times the amount of its load capacity of only 8,000 people per day.
"We're overwhelmed by the volume of visitors," a spokesman was quoted as saying in media reports. According to China's state-run news service Xinhua, the bridge had to undergo an "internal system upgrade", to update "software and hardware" related to managing visitors.
Officials were also quick to point out that there is no significant damage to the bridge.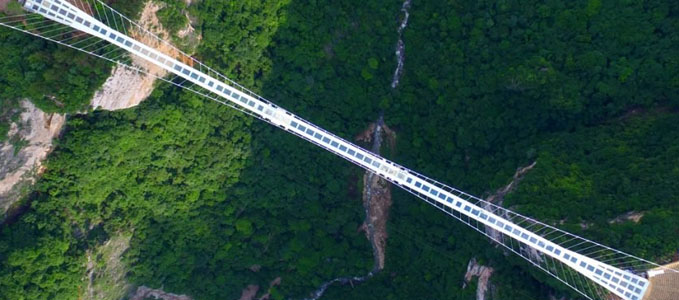 Disappointed tourists took to social media to vent their frustrations.
"I'm on the train right now. I can't change my travel plans or get a refund. You have made the world lose hope. I see you are the world's number one cheat," one upset user wrote.
"I have booked everything and now you are saying you are closed ... Are you kidding me?" said another.
The maintenance didn't last long and the bridge reopened on September 30 after subsequent safety tests. The management committee installed a monitoring system to help control the number of people visiting the bridge, as well as prepared for a free shuttle bus service to the attraction.