PanARMENIAN.Net - BAJ (Baltic Armenian Jacobs) Accelerator – an organization created as a result of the Baltic American Chamber of Commerce, Orion Worldwide Innovations and the Jacobs Technion-Cornell Institute joining forces for a common cause – chooses Armenian startups (created in Armenia or by Armenians) to help them grow and become unicorn companies (privately held startups valued at over $1 billion).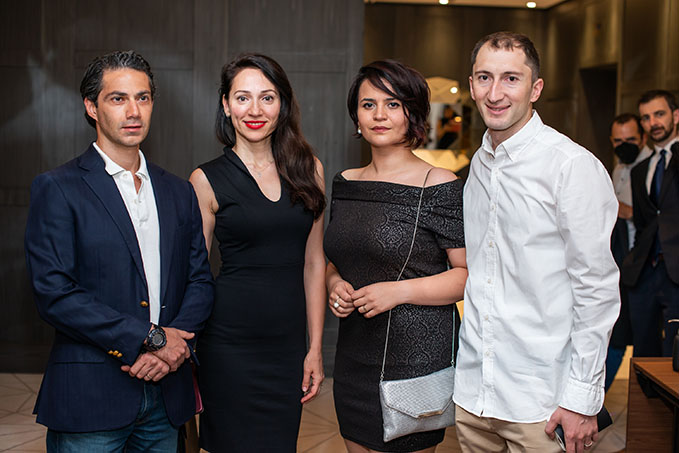 The June 2 event unveiled the first three companies to have received funding – Embodied, Inc., a robotics and AI company, Scylla, a real-time threat detection system, and Cognaize, a company specializing in AI-based processing of financial information. New candidates to receive consultations from the accelerator program and support in attracting investments were announced as well.
Emma Arakelyan, co-founder of the BAJ Accelerator program and Orion Worldwide Innovations, said that the event also celebrates the 1st anniversary of Orion's Armenian branch.
"We want to develop and enrich the ecosystem of Armenian startups, raising them to American and European standards. The idea is that Armenian innovation can compete with the best in the world. Our goal today is to create 10 Armenian unicorn startups, and I can say with great joy that during the 12 months of our activity we have identified three companies," Arakelyan said.
Arakelyan revealed that Cognaize is now worth $11 million, having already been recognized by foreign investors. Scylla's valuation, meanwhile, has grown to $16 million, and the company has raised $5 in its latest funding round, Arakelyan added, while Embodied, with most of its engineers based in Armenia, is valued at $150.
"We want to have 10 unicorn startups with at least 1000 employees within five years, which will have a great impact on the Armenian economy, attract investments, create jobs, and contribute to quality education," Arakelyan said.
According to her, startups must have a certain level of recognition and market position in order to be enrolled in the program, and companies in the fields of security, robotics, financial technologies, healthcare and consumer goods are of particular interest.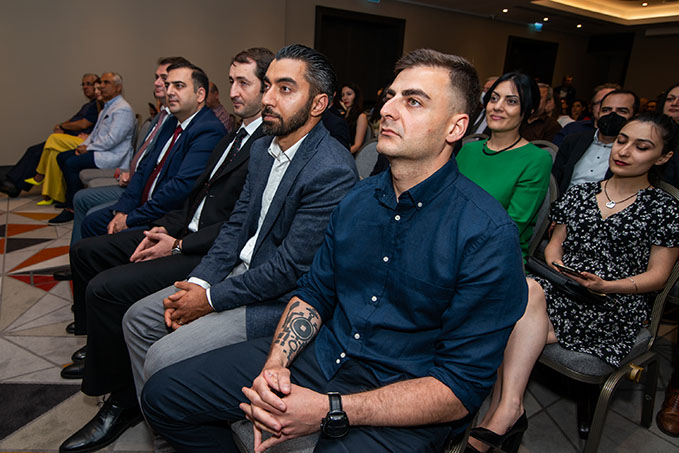 Attending the event was acting Minister of High Technologies Hayk Chobanyan, who stressed the importance of such initiatives in the development of the country's economy and the IT sector.
"Our potential in this field is much greater than what we have achieved so far in Armenia and beyond. This day is about improving the path from ideas to business and products, about clearing that road from obstacles, about education, training and support," Chobanyan said, noting that that's exactly what the Armenian high-tech industry needs today.
Chobanyan added that the IT sector is among the few areas that have been least affected by the coronavirus epidemic and the war, but the sector is nevertheless facing new challenges and problems, which Armenia is trying to address.
Co-founder of BAJ Accelerator Armen Kherlopyan believes the creation and development of unicorns will have a great impact on the Armenian economy, contributing to the growth of key spheres in the country.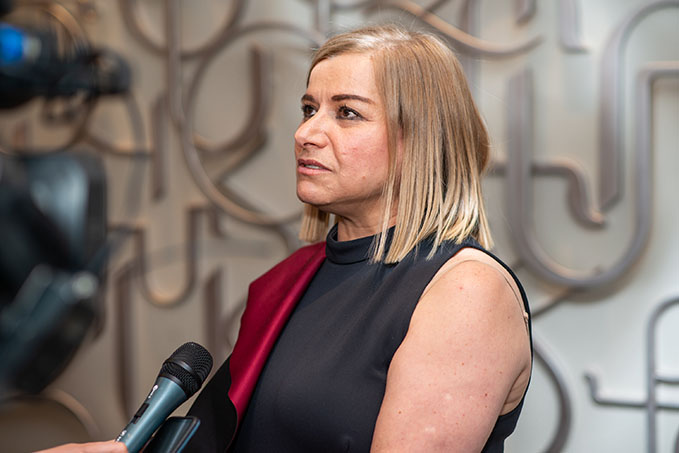 "There are several preconditions for a small company to grow into a unicorn, smart, talented people like those we have in Armenia and the Diaspora being first among them. We also need to develop science, we must give something new to the world," Kherlopyan said, adding that Armenia does have those things and that the program will hopefully unveil more.
Moxie, the robot created by Embodied, took center stage at the event. Moxie is currently available only in the United States but people behind the robot aim to take it to other parts of the world as well. Tatev Mezhunts from the company's Armenia operations said that Moxie is helping children learn and develop their social-emotional and psychological skills.
"By acquiring this robot, parents can choose the direction in which they'd like it to work with their children. The robot can communicate with the child all day long, without interruption. If the child is no longer interested in a subject, the robot can change it at its own discretion or at the suggestion of the child. Currently, though, it speaks only English," Mezhunts said.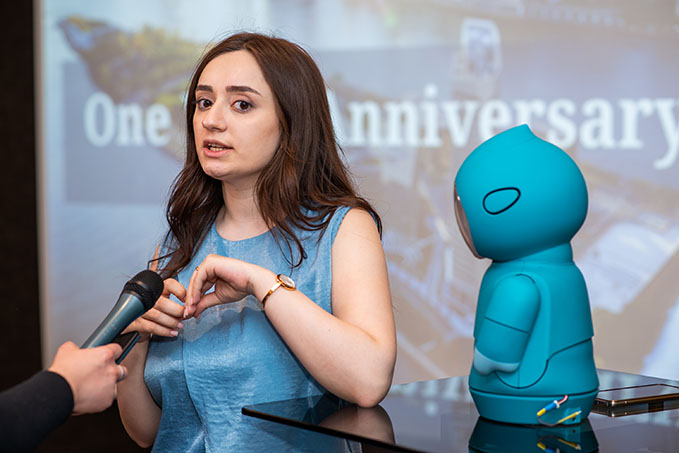 The robot now costs $1499, and although creators say it is designed for children between the ages of 5 and 10, adults too enjoy communicating with Moxie, the company representative added.
"The robot can be asked any question, and if it has no answer, it tells you that it is still in the process of learning. A very large team is working on the robot to constantly develop and update its knowledge base and topics," Mezhunts concluded.