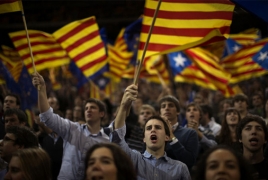 November 11, 2015 - 17:34 AMT
PanARMENIAN.Net - Spanish Prime Minister Mariano Rajoy said on Wednesday, November 11, his government had filed an appeal with the Constitutional Court in a bid to block an independence drive by Catalonia region's local assembly and preserve Spanish national unity.
Catalonia's regional parliament passed a resolution on Monday calling for secession from Spain, with the aim of forming a Catalan republic within 18 months and starting to set up state institutions, such as a tax office.
"It's not just a reaction to a motion passed in parliament, this is about defending a whole country," Rajoy told a news conference after a cabinet meeting, adding the northeastern region would not be allowed to split from Spain.
"This is a blatant disregard for the state's institutions. They are trying to do away with democracy. I will not allow it," he said.
Spain's Constitution does not allow any region to break away and if the court agrees to process the central government's appeal later on Wednesday the Catalan assembly's resolution will be suspended for several months.
If Catalan leaders continue to press ahead with the independence bid under those circumstances, it could further drive up tensions between Barcelona and Madrid since Rajoy vowed to take more steps if needed against local representatives.