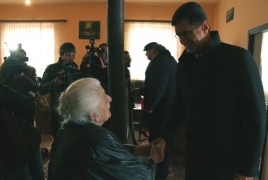 December 22, 2015 - 12:12 AMT
PanARMENIAN.Net - VivaCell-MTS General Manager Ralph Yirikian and Fuller Center for Housing Armenia President Ashot Yeghiazaryan visited the village of Ujan in Aragatsotn province where an Armenian family have completed the construction of their half-built house with the companies' support.
The three children of the Avetisyan family were raised in two small semi-basement rooms of the parental house without a kitchen and a bathroom. Despite the wounds that the family father, Serob, received during the Karabakh war, he put himself together and tried to build his house, yet was unable to complete it.
"Winters have always been a burden for my family," Serob said. "It hurt seeing my adult children to not have basic housing conditions that each person should have. Now I am infinitely happy and thankful for the support."
This year, owing to the partnership between VivaCell-MTS and the Fuller Center for Housing Armenia, 40 families have already finished the construction of their half-built houses or renovated their houses.
"Building a house is only half of the work, with VivaCell-MTS willingly taking up this burden," Yirikian said. "Now the owners of the house have to make it a fortress for their family to raise their children in a warm atmosphere."
VivaCell-MTS invested AMD100 million (AMD55 million in 2014) in the project in 2015, with Fuller Center for Housing Armenia implementing it. Through this partnership, the number of the families having their houses renovated or reconstructed will reach 93 by the end of the year.