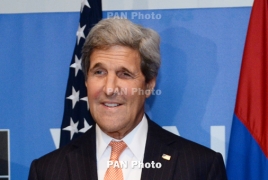 January 22, 2016 - 17:12 AMT
PanARMENIAN.Net - The U.S. may be able to consider lifting sanctions it imposed on Russia over its involvement in violence in Ukraine later this year if the Kremlin complies with the Minsk peace deal, U.S. Secretary of State John Kerry said, according to Bloomberg.
"With effort and with bone fide, legitimate intent to solve the problem on both sides, it's possible in these next months to find those Minsk agreements implemented," he told an audience in Davos, Switzerland. If this happens, it would "get to the place where sanctions can be appropriately - because of the implementation - be removed," he said.
Kerry's comments are all the more optimistic since as recently as last month the U.S. Treasury Department expanded sanctions related to Russia's role in Ukraine.
Earlier this week, Ukrainian President Petro Poroshenko blamed Russia for delays in implementing the Minsk accord and said sanctions enacted by the U.S. and Europe over the conflict are working. The conflict has killed more than 9,000 people and continues to simmer in the country's easternmost regions.
While the original peace accord, signed last February in Minsk, was due to be completed by 2015, a new deadline hasn't been set. Russia blames Ukraine for the delays.